Give the RMD from your IRA
An RMD is a Required Minimum Distribution. If you are 72 and older then you are required to take RMD's from your tax deferred retirement accounts (i.e. IRA, 401k, 403b). It is the federal governments opportunity to collect taxes on tax deferred accounts. When you take an RMD it becomes taxable income in the year in which you take it. The good news is that if you do not need all or part of your RMD, you can make a gift directly to ministry with all or part of it. When you do your RMD gift then becomes a QCD (Qualified Charitable Distribution) and is no longer taxable income to you.
How does an RMD gift work?
Individuals who are 72 or older can make a Qualified Charitable Distribution (QCD) — a tax-free charitable donation made directly from their IRA. QCDs are important because they represent a rare opportunity to make a tax-free donation in an age when far fewer taxpayers are eligible to itemize deductions on returns. QCDs provide a great way for donors to support ministries because the donor can reduce the annual taxable income generated by their RMD. Planned appropriately, a QCD can also support ministry and reduce taxes on an annual basis going forward.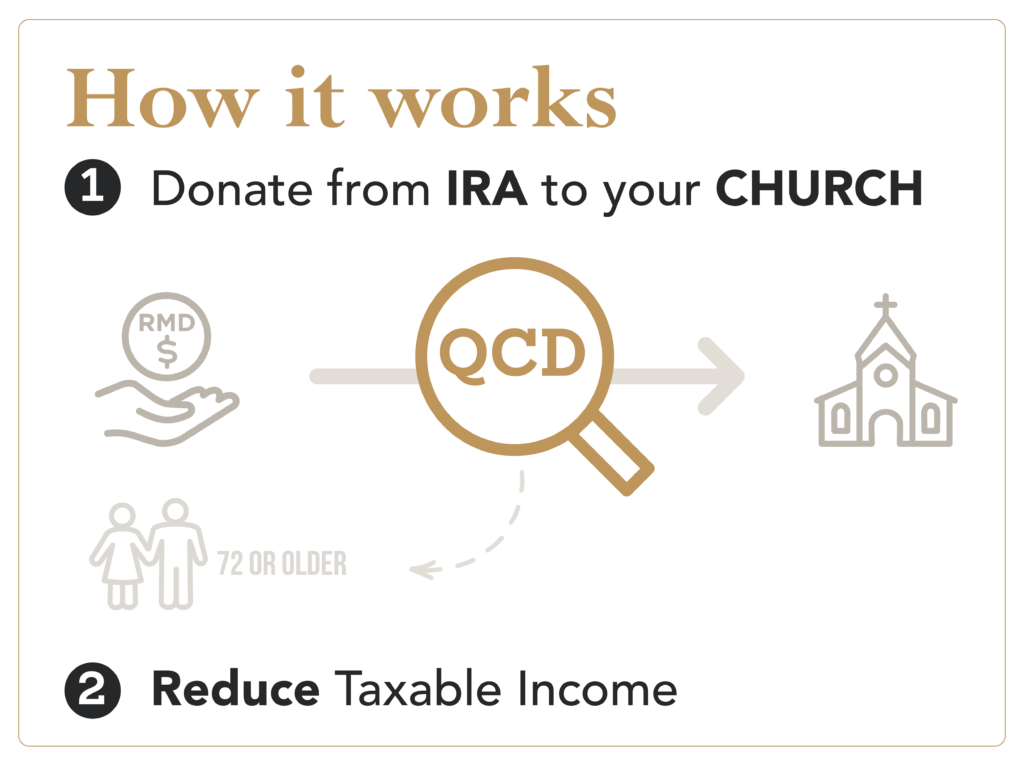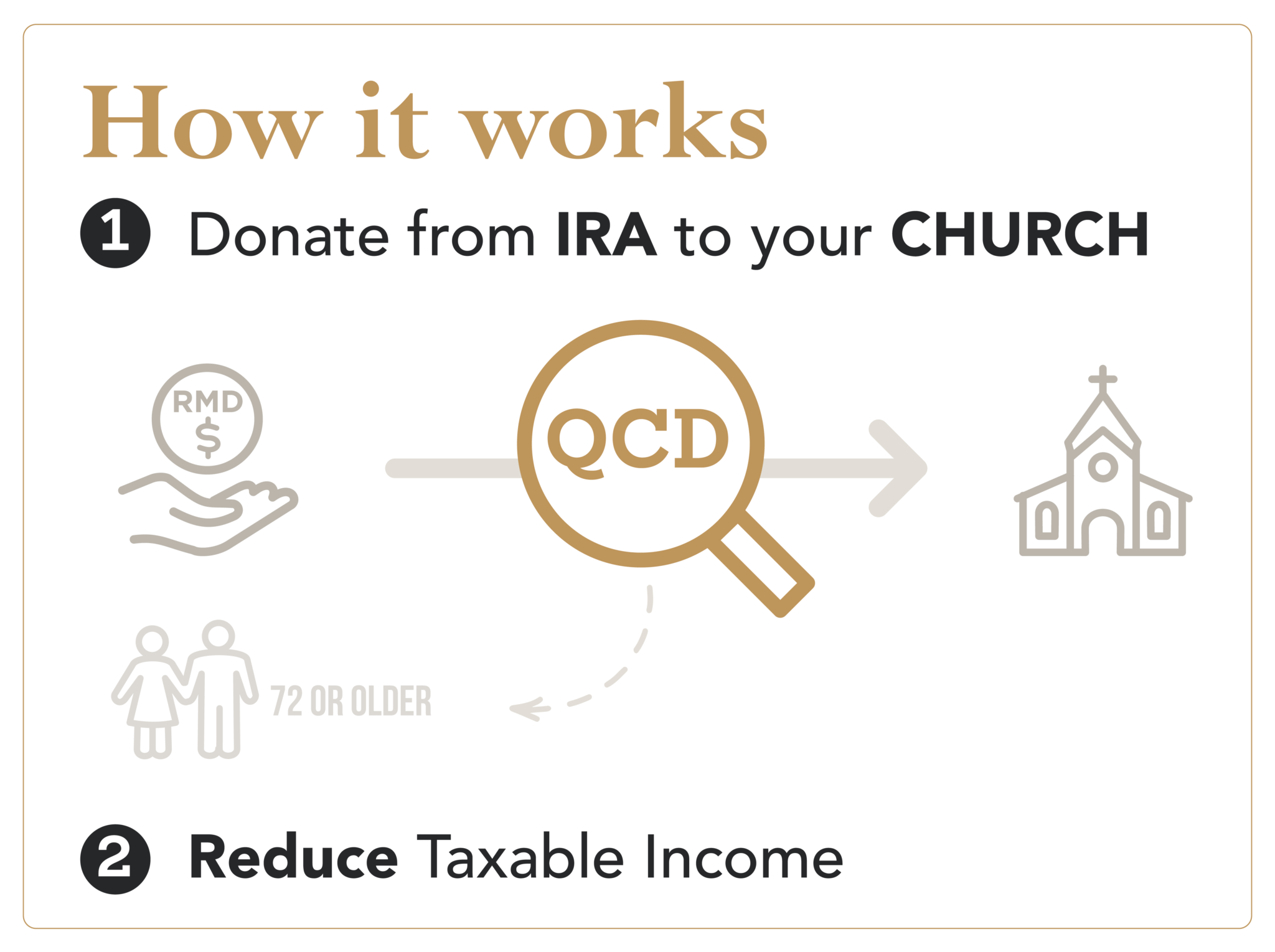 If you are considering making a QCD from your IRA, please complete the questionnaire below and contact us so we can walk you through the process. Remember, a gift from your IRA will not qualify as a tax-free transfer if you withdraw the funds first and then make your donation. Funds from your IRA must be given directly to the ministries you want to support in order to qualify as a QCD and not count as taxable income to you.
1. Complete and Submit QCD Questionnaire

There are various factors to consider when making a QCD gift. The QCD Questionnaire is designed to l help you navigate those factors. Click here in order to correctly complete your QCD gift.

2. Meet with GBF staff member for gifting consultation

The Foundation's professional staff is available to meet with you in person, over the phone, or via an online video call to go over your QCD Questionnaire and giving objectives. Contactus@gbfoundation.org

3. Create a QCD Gift Instruction Form

The QCD Gift Instruction Form provides you with a printout of the basic information you need to begin the gift process with financial advisor or plan administrator.

4. Deliver the Form to Your Financial Advisor

Once you have completed the QCD Instruction Form, you will need to deliver it to your financial advisor or plan administrator. Your financial professional will then provide you with the appropriate paperwork to complete the gift. If you have any problems along the way, our staff is available to assist you in the process. Also, don't forget to inform your tax preparer about your gift.
* Due to COVID-19 the CARES (Coronavirus Aid, Relief, and Economic Security) Act was signed in to law on 3/27/2020 and it removed the RMD (Required Minimum Distribution) requirement for the 2020 tax year. This means that you do not have to take an RMD this year if you do not want to, but you can still take distributions if you need to.
* The SECURE (Setting Every Community Up for Retirement Enhancement) Act was signed into law on 12/20/2019 and it raised the age requirement for being required to take an RMD (Required Minimum Distribution) from age 70 ½ to age 72.
* You are still able to make a Qualified Charitable Distribution in the 2020 tax year irrespective of the CARES Act and the SECURE Act.
1. Contact Us

Tell us about your intended contribution using the online form. Click here to go to the form page

2. Initiate the Transfer

Print the gift instructions form generated in step 1 and deliver it to your financial advisor. Click here to print a blank form with delivery instructions your broker will need to begin the transfer process.

3. Confirm the Transfer

Once your financial advisor has confirmed that the transfer is complete, we recommend you let the ministry know of the gift.

4. Keep Your Contribution Acknowledgment

Once the gift has cleared and the proceeds have been distributed to the ministry of your choice, the Georgia Baptist Foundation will email you a receipt of your gift for tax deduction. Please print the receipt and save with your tax documents for this year.