A few minutes can impact eternity
Leaving a gift from your estate to your local church or a ministry can continue Kingdom expansion through that ministry for years to come.
That's the power of estate planning. Our Seven Step Estate Stewarding Planner will walk you through the process of biblically planning your estate with clarity and ease.
Get started today with your free planner.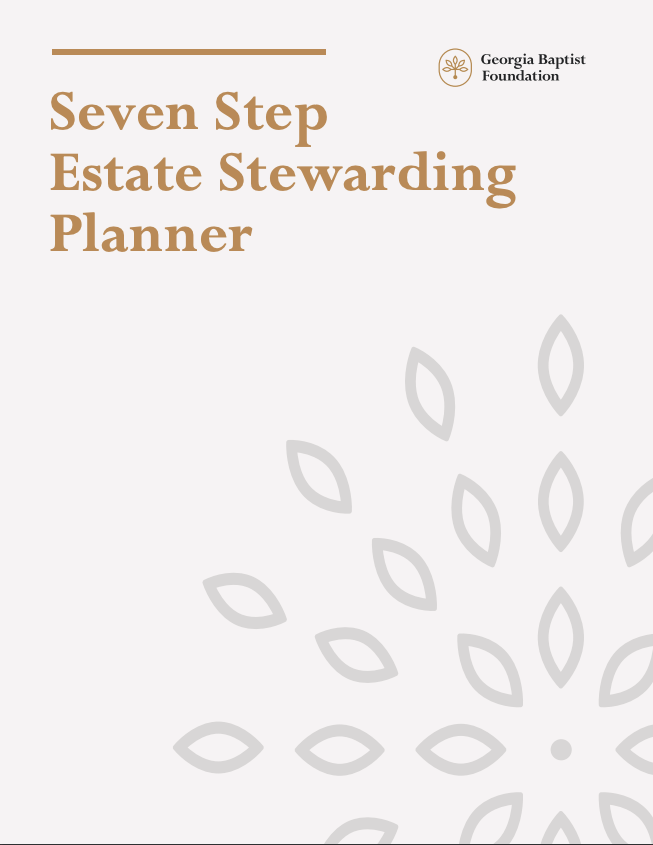 Estate gifts have been a huge blessing for churches and ministries over many years. See just how estate gifts to churches and ministries have impacted the efficacy of these ministries.
Estate gifts have been a great blessing to our church. On more than one occasion, God has used one of these gifts to bring hope in the midst of difficulty. God has also used estate gifts to affirm decisions that required a financial leap of faith.
Inman Houston, Lawrenceville First Baptist Church
Personal advantages of having an estate plan

Ensure your assets go to the ones you love

Avoid probate cost and estate taxes

Leave a gift to your church or other Christian ministries

Name your own executor

Name a guardian for minor children

Create childcare trusts for minor children
Begin the process of planning your estate
Get the Planner

Seek the Lord's direction

Develop your personal plan
Start a Conversation
The Georgia Baptist Foundation offers FREE, confidential estate stewarding consultation. Our guides can assist in developing your personal plan, or answering any questions you may have.